5 industries that benefit from contract management software
CATEGORIES

22 JUN 2021

Best Practices
Making use of contract management software is a good practice for any type of organization. It is understandable that there is a surge in contract management software nowadays. Businesses that handle different types of contracts regularly can benefit from contract management software. This software efficiently handles the various challenges faced by different industries, some of which are listed below: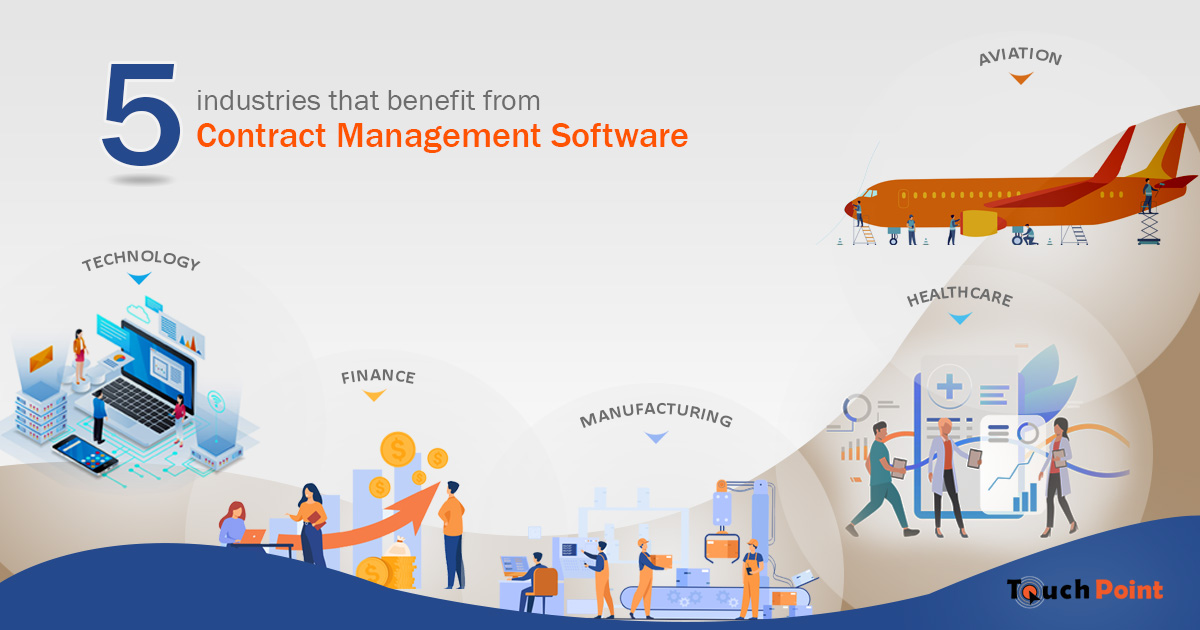 Technology
Technology-related organizations generally handle a huge number of organizational contracts and other crucial agreements. This needs due diligence and constant tracking. The organizations would be growing on a daily basis, and hence it becomes essential to have a good contract management software. The companies would have some agreements with third parties , and contract management software helps in achieving them. Even employee agreement co-ordination can be done efficiently with contract management software.
Finance
The financial domain is facing great stress to enhance both performance and earnings. Besides, they should comply with different regulations and guidelines. There is no denying that contracts are the crucial elements in financial companies, and there arises the need for good contract management. This software can organize the crucial processes of a contract lifecycle, thereby have an encouraging impact on the productivity of the business.
Healthcare
The healthcare industry consists of numerous documents including employment contracts, understanding with vendors and suppliers etc. Since the healthcare industry is a major force in the economy, they encounter lot of stringent regulations. Contract management software can successfully help in vendor contract management, contract safety, compliance follow-up etc.
Manufacturing
There will be different locations involved in the sourcing of elements in the manufacturing industry. Therefore, it becomes essential to control all your contracts in a streamlined manner. You should also not disappoint the customers, suppliers, and other stakeholders. A good contract management software helps in vendor and client contract management, has efficient reporting settings, compliance tracking system etc.
Aviation
The aviation industry has a vast supply chain, and the vendor streamlining process should take care of every stage efficiently. A good structure should be available for management. An efficient contract management software will ensure that all the vital components involved in the contract lifecycle run in a streamlined manner. This goes a long way in enhancing productivity, earnings, and safeguarding the organization from any reputational damage because of non-adherence to regulations.
Take-home message
A good contract management software can not only help in generating valuable insights but also in enhancing communication in the whole organization.
Ask For A Free Live One-on-One Demo. Our experts will demonstrate all Key Features & Functionalities
Call us today at

+919840075250

or Email us at

sales@cogentmail.com
Request Demo