The role of material gate pass management system in solving routine organizational problems
CATEGORIES

11 MAY 2021

Best Practices
Sometimes, the organizations will still depend on the traditional processes; it is time that they shift to material gate pass management system. This system is an organized approach to let you safeguard your organization's intellectual and physical assets.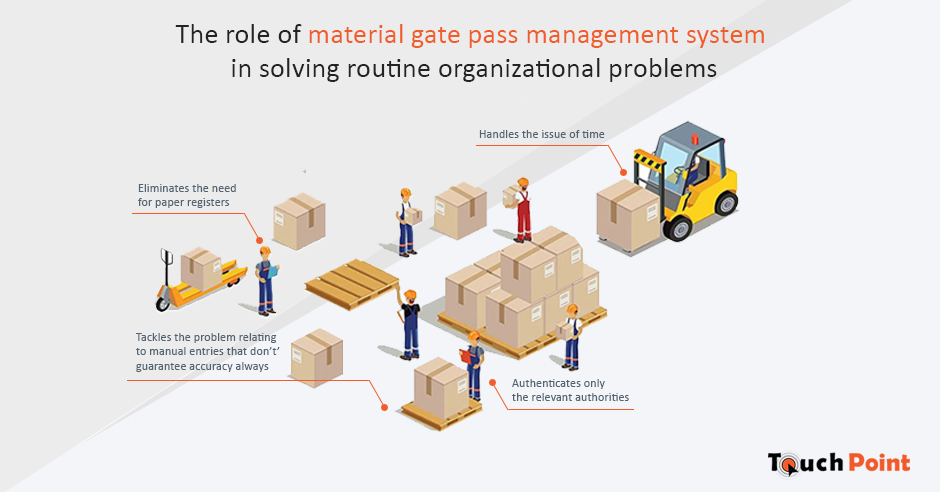 The process from the starting point of material request till the arrival to the destination is handled by the material gate pass management system. However, there are some general issues in the material entry and exit process. Now let us see how these issues can be solved with a material gate pass management system.
Authenticates only the relevant authorities
An effective material gate pass management system solves daily material issues. For example, the material may be inside the premises and it will take long time to get the permission of the concerned person. With the help of material gate pass management system, the tracking system will give permission to only authorized users to get inside your organization. Besides, only legal products are allowed to enter the organization.
Eliminates the need for paper registers
If your business has been using paper log books for maintaining entry and exit records, then it is high time that you adopt material gate pass management system. The major drawback of paper registers is that data cannot be retrieved or tracked easily, which is efficiently tackled by material gate pass management system.
Handles the issue of time
Suppose you have to fill up forms for material passes and they are to be signed by the concerned authorities. Then you have to have a record of it which is both time-consuming and needing effort. A gate pass management system gives relief from this issue by helping you perform the authorization remotely.
Tackles the problem relating to manual entries that don't' guarantee accuracy always
Certain information in the paper log book are unreliable and are of no help when necessary. There is also the drawback of paper entries getting lost. A material management system diligently takes care of the data.
Notifications are available
There are certain circumstances when you need to get notifications regarding significant entries and exits. A material gate pass management system aids in letting the concerned sraff know that they should give permission to a material movement diligently.
Take-home message
If you are still maintaining the traditional way of material management, then adopt a material management system that is not only time-saving but also is highly efficient and safe. This solution would be customized only for the purpose of sending and receiving materials in order to get the most benefit of it. The system can also be tailor-made to meet the unique business needs.
Ask For A Free Live One-on-One Demo. Our experts will demonstrate all Key Features & Functionalities
Call us today at

+919840075250

or Email us at

sales@cogentmail.com
Request Demo