Can a visitor management system add value to your business?
CATEGORIES

12 OCT 2021

Best Practices
If you are still wondering if a visitor management system can add value to your business, then you have landed at the right place. A digital visitor management system is one of the best ways to add a distinguished charm to your identity.
Many well-known brands are now using digitized visitor management systems to stay updated and protected, especially during this pandemic. But, how does a visitor management software add value to your business? Here is something that might interest you.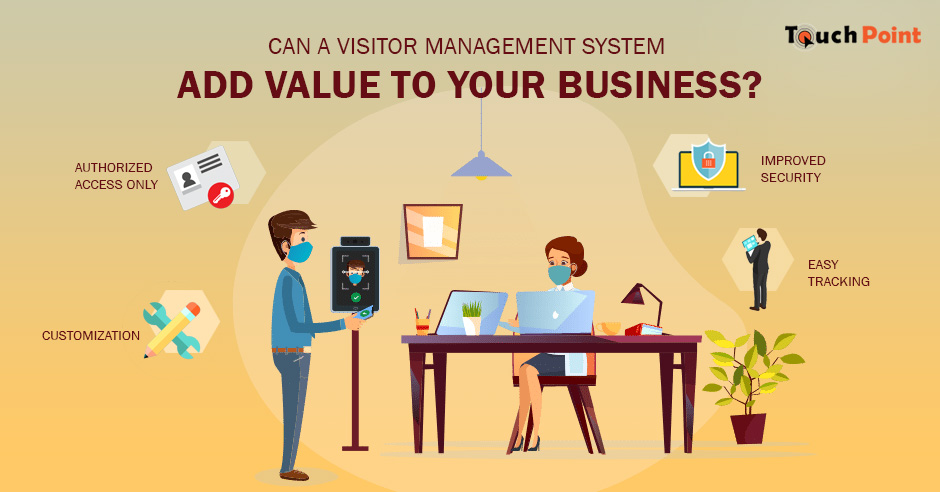 1. Authorized access only:
One of the biggest benefits of using a visitor management system is allowing only authorized access to the required people. The organization can permit only the required persons in advance, thus preventing the unwanted gathering of people. Moreover, it also helps ensure the privacy and authentication of the organization's data.
2. Customization:
Organizations can also customize their visitor management system to make a lasting impression on the clients. When the visitors are welcomed with a seamless, personalized, and convenient management system, it improves your brand value. Needless to say, it helps in attracting and retaining loyal customers and clients for better performance.
3. Improved security:
Every business should take care of the security and safety of their employees, clients, and customers to reduce the risk of the COVID-19 virus spreading. Do you think the traditional management system can do it? The hassles of maintaining physical management are nothing but an invitation to the virus.
As a result, organizations rely on the visitor management solution to limit the spread of the virus by digitally managing their employee, visitors, and clients.
4. Easy tracking:
Last but not least, the organizations can rely on the visitor tracking system to stay updated about the appointments and scheduled times for their visitors. Also, the system sends an instant notification to the concerned person about the arrival of their guests. This saves the organization a lot of time and effort with smooth and seamless "visitor management."
Conclusion:
Considering such benefits of the visitor management system, it won't be wrong to say that in today's time, it is an essentiality for any business. What do you think?
Ask For A Free Live One-on-One Demo. Our experts will demonstrate all Key Features & Functionalities
Call us today at

+919840075250

or Email us at

sales@cogentmail.com
Request Demo