Enhance your workplace safety with the contactless visitor management system
CATEGORIES

17 AUG 2021

Best Practices
With more than 13.5 million global cases of COVID-19, it won't be wrong to say that the spread of coronavirus is still one primary concern everywhere. While many organizations are planning to reopen their operations, managing the safety of employees and visitors is still a daunting task.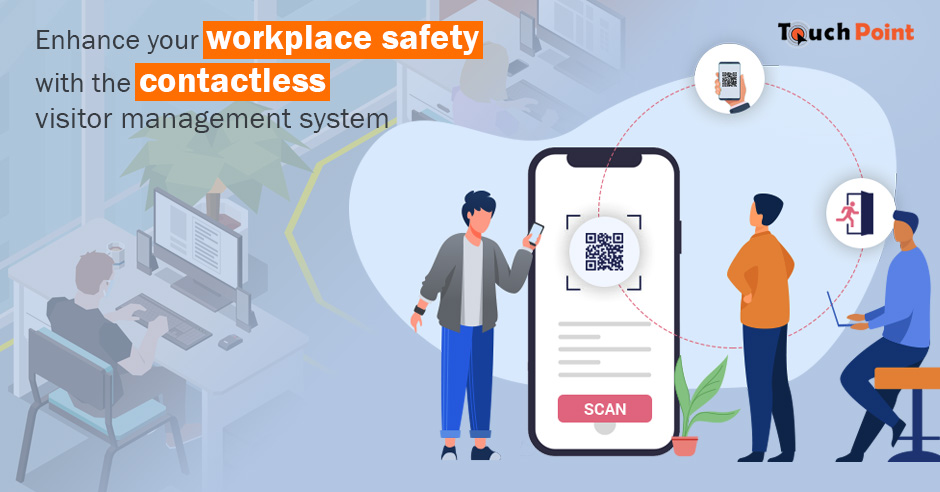 If you, too, are planning to kick-start your business operations, you surely need an efficient visitor management system amidst the various measures. The proper installation of a reliable visitor management software can offer numerous benefits and reduce the spread of the virus.
1. Contactless sign-in:
One of the significant benefits of visitor management automation is contactless sign-in. Generally, the transmission of the virus is because of touching open objects, which can quickly spread here and there.
The use of contactless sign-in reduces the risk of spreading the virus. Also, the continuous cleaning and disinfecting the visitor sign-in tablet or book ensures desired safety of the visitor. It, surely, is a time-consuming process, but it is absolutely worth it.
2. Proper visitor management:
Thanks to the reliable visitor management solution, the appointments and meetings of the visitors can be scheduled appropriately. The automated visitor management system prevents gathering many people together at the same time. It can also be scheduled to maintain a sufficient time frame between the visitors' meeting time.
3. Close screening of the employees and visitors:
Before the employees, visitors, contractors and customers enter the organization, they are properly and closely scanned for any virus symptoms by the visitor management software. This is vital to prevent the potential virus from entering the premises resulting in uncompromised safety and security of the people.
4. Visitor tracking strategy:
The visitor tracking system can also be trusted to monitor and observe the various activities of the visitors to detect any suspicious activity. It further reduces the spreading of the virus by identifying and managing the individuals exposed to the virus.
An efficient visitor management solution also alerts individuals around an infected person to break the transmission chain.
Trusting a reliable and reputed visitor management system is a must if you want a safe and secure working environment.
Ask For A Free Live One-on-One Demo. Our experts will demonstrate all Key Features & Functionalities
Call us today at

+919840075250

or Email us at

sales@cogentmail.com
Request Demo