Essential Features of a Contract Management Software
CATEGORIES

21 OCT 2020

Best Practices
Organizations have many business relationships through contracts and keeping track of its terms, obligations is difficult when the volume of contracts is high. Developing systems and using a contract management system simplifies the process of contract creation and management, right from initiation to renewal. It ensures real-time availability of reports and supplier performance, improves productivity while managing organizational risk and enhancing compliance.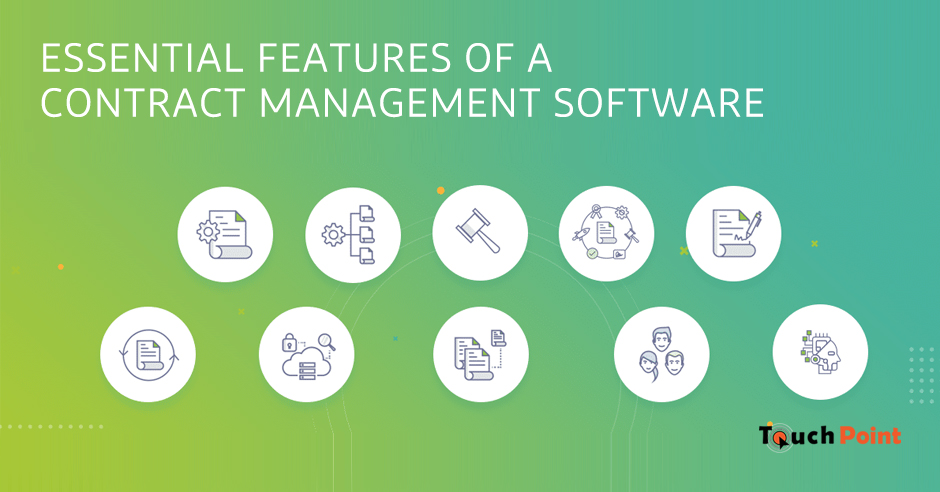 Choosing the right contract management software is necessary and the top features one must have are:
1. Personalized Dashboard
The contract management software solutions that address unique organizational requirements must help in viewing the status of the current contracts, and any actions which require immediate attention. It must analyze contract details and refine information to create a variety of different supporting reports.
2. Reminders and Notifications
A good contract management software assists in sending reminders on upcoming renewals and alerts on pending obligations, terms and key provisions. Alerts & Notifications can be sent to manage timelines for pre-defined schedules or as escalations when scheduled activity is not occurring.
3. Centralized Repository
Safe storage of all contracts including drafts, order management documents, legal documents are stored in one place and can be viewed, edited and shared by all parties within that system. It not only improves transparency, but also helps all parties interact and collaborate within a single system that manages the documents securely and competently.
4. Easy to Use
Effective contract management solutions allow users to easily use, change and configure the setup to a new business process, avoiding the need for complex changes. It must have a core workflow system to facilitate and manage new contracts. Make sure the software has user-friendly contract management tools that help users navigate easily, increase compliance and adoption across the business, and make it sustainable over the long term
In response to the Covid-19 pandemic, to prevent and protect from virus exposure, reducing the time for issuing access card and gathering fingerprints of labours, contact less collection of electronic signature can be made effective.
Ask For A Free Live One-on-One Demo. Our experts will demonstrate all Key Features & Functionalities
Call us today at

+919840075250

or Email us at

sales@cogentmail.com
Request Demo