How can a digital management system accelerate business efficiency?
CATEGORIES

21 SEP 2021

Best Practices
How do you manage the visitors in your office? Are you still using traditional ways and lacking the amazing benefits of visitor management software?
The paper-based management system is quite complex and time-consuming. Thus, more and more companies are now relying on the visitor management system to accelerate their business. If you are keen to know how a visitor management solution is the right choice to boost your business performance, here is something that might interest you.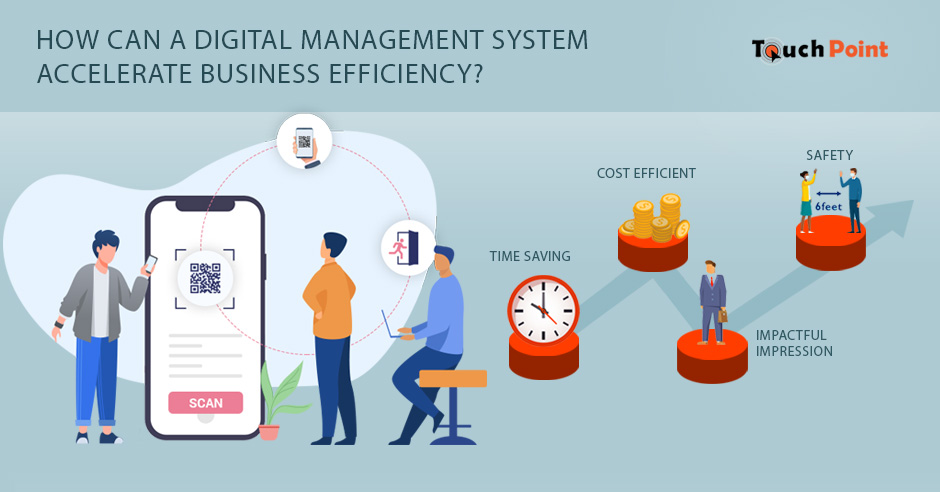 1. Time-saving:
In the business world, time is money. Thus, if your visitors keep wasting their precious time making paper entries every time they visit, it will not just be time-consuming but annoying as well. The visitor management software is the best way to eliminate these problems.
Every time a visitor visits your office, all the details can easily be found with just one click. It will save visitors valuable time and also brings more business for you.
2. Cost-efficient:
Imagine the cost you spend to manage the pen, paper, and other stuff to register a visitor. A digital visitor management system can digitize the whole visitor's registration process. As a result, it can save a whole lot of administration costs for your business.
Using the biometric system of an advanced digital management system, you can save your money now invested on plastic IDs, RFID cards, etc. Moreover, the biometric feature can also work as an effective visitor tracking system.
3. Creates an impactful impression:
When a visitor visits your office and finds an efficient visitor management system, it will surely create an impactful impression on them. Using the digital management system portray that you care about your employee's and visitors' convenience, efficiency, performance, and safety. This, indeed, will help you gain a competitive edge over others.
4. Safety:
Last but not least, who can question the need to maintain safety and security during this current pandemic phase? More visitors at your office mean more risks. Thus, a visitor management solution is the utmost necessity to ensure the safety and security of your staff and visitors.
Conclusion:
Visitor management system simplifies all the hassles of the traditional ways along with attracting better performance, efficiency, and safety. Will you still wait to use it?
Ask For A Free Live One-on-One Demo. Our experts will demonstrate all Key Features & Functionalities
Call us today at

+919840075250

or Email us at

sales@cogentmail.com
Request Demo