How can a visitor management system modernize the workplace?
CATEGORIES

07 DEC 2021

Best Practices
The crisis of COVID-19 has raised many questions and concerns about the safety and security of the employees. As a result, more and more organizations are now using an effective and reliable visitor management system to ensure proper safety for their employees and visitors.
Despite the urgent need, many organizations are not realizing the importance of having trusted visitor management software. Along with offering many excellent benefits, the visitor management system also helps in modernizing the workplace.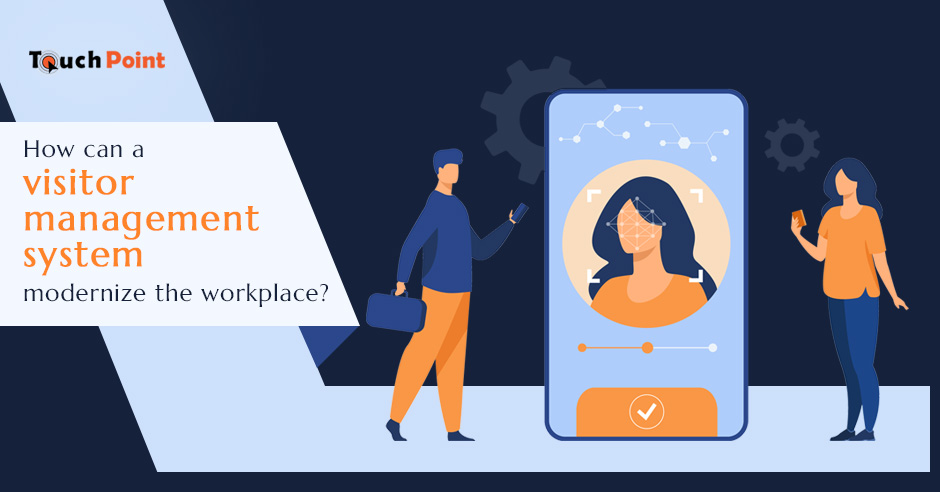 The use of visitor management system for modernizing the workplace –
1. Keeping up with the COVID protocols:
One of the best benefits of a visitor management system is that it provides a safer work environment for the employees. It takes care of all the essential protocols of COVID-19 to minimize the danger of spreading the risks to others.
2. Touchless check-ins:
Another important benefit of the visitor management system that helps modernize the workplace is touchless check-ins. Unique IDs and QR codes can be sent to the invites to further avoid hassles. The system offers the best experience to the employees and visitors with the automation access control.
3. Facial recognition:
Introducing facial recognition in the visitor management solution is one of the best ways to enhance the organization's expected security. This helps in effectively managing authorized access to only limited people to reduce the risks of vulnerabilities.
4. Quick tracking:
Instead of manually tracking the visitor or employee's positions, the visitor tracking system enables quick and easy tracking. This also helps the management to keep an active and constant record of the arrival and leaving time of the guest.
Moreover, the visitor management system reduces the chances of any errors or mistakes while tracking or maintaining the records.
Final thoughts:
Workplace modernization can only happen if the organization is well-equipped with an effective and reliable visitor management software. In addition to the modernization benefits, the visitor management system ensures a safe and healthy work environment for the employees and visitors, which is undoubtedly the need of the hour.
What are your thoughts about workplace modernization using a visitor management solution?
Ask For A Free Live One-on-One Demo. Our experts will demonstrate all Key Features & Functionalities
Call us today at

+919840075250

or Email us at

sales@cogentmail.com
Request Demo