How can a visitor management system transform your business?
CATEGORIES

05 OCT 2021

Best Practices
Visitor management system is an automated way to keep all essential records and details of the visitors entering your premises. It not just helps to enhance the visitors' overall experience but also boosts safety and security.
Do you know that a digital visitor management system can help transform your business? Yes, you read that right. However, many businesses are using traditional visitor management ways.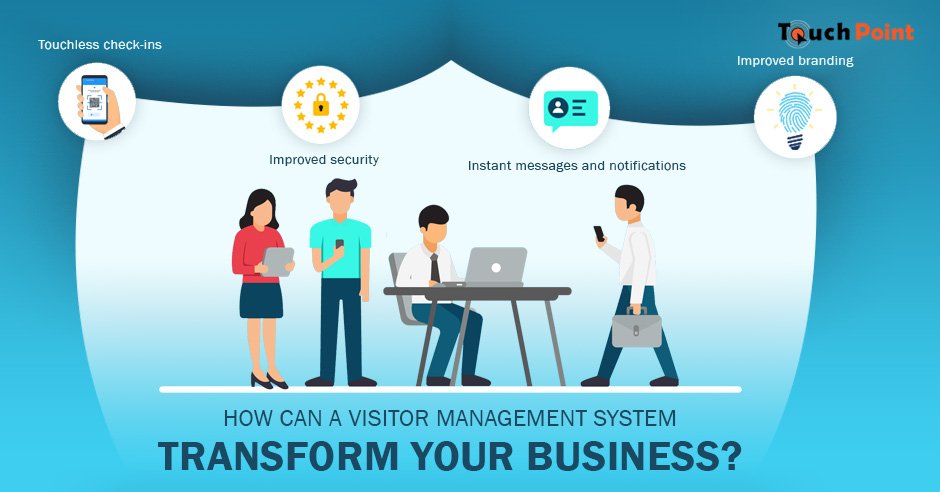 1. Touchless check-ins:
The digitized visitor management software enables seamless touchless log-ins. Visitors can check-in the premises by themselves without the need of any third party by scanning the QR codes. This helps in limiting the spread of the virus.
Moreover, it also eliminates the need for hectic and complicated paper work; thus, reducing the chances of any errors or mistakes.
2. Improved security:
Using a visitor management solution is the ultimate need to maintain security in your organization. The organization can effectively manage and schedule the appointments and meeting times of the visitors. Also, the organizations can seamlessly allow only authorized access to the required person using the advanced visitor management system.
3. Instant messages and notifications:
Organizations can rely on the visitor management system to receive instant messages and notifications about the arrival of guests, visitors, and other concerned people. Thus, the visitor tracking system helps save a lot of time to monitor the visitors' activities. As a result, it ensures boosting the productivity of your business.
4. Improved branding:
One of the most reliable ways of using a visitor management system is to improve the branding of your business/organization. Using digitized management software creates an impactful positive impression on the visitors, which results in loyal clients and customers.
You can also customize your visitor management system with your brand logo or a personalized welcome message to impress your visitors.
Conclusion:
A Digital visitor management system is the perfect alternative for the traditional visitor management needs. It is the right time to invest in modern technology to create an amazing experience for your visitors! So, when are you making the most of the advanced digital management system?
Ask For A Free Live One-on-One Demo. Our experts will demonstrate all Key Features & Functionalities
Call us today at

+919840075250

or Email us at

sales@cogentmail.com
Request Demo