How to use a visitor management system to greet customers professionally?
CATEGORIES

26 OCT 2021

Best Practices
Amongst the COVID-19 times, human-human interaction has reduced a lot. People avoid getting personal with other people because of health factors. Along with the personal safety measures, many organizations are also using the benefits of visitor management software to ensure effective safety measures for their employees and visitors.
Even the big organizational brands rely on the visitor management solution to greet their employees and customers. Such a management system also ensures the visitors' and customers' minimal risk of disease transmission. Moreover, social distancing increases the risk of losing a sense of community and impersonality.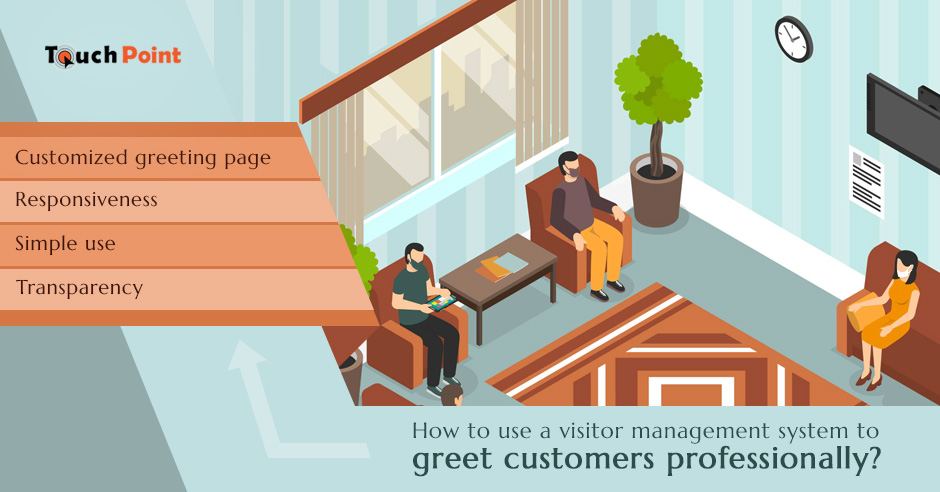 Why is it important to greet the customers?
Greeting your customers is one of the most recommended ways to show that you value your customers. It also ensures improving customer loyalty, even if the greeting is done through a virtual visitor management system. Also, with a proper greeting, even your customers and visitors feel a part of the organization.
How can a visitor management system ensure the professional greeting of the customers?
1. Customized greeting page:
Many organizations customize their greeting page to leave a lasting impression on their visitors. You can be as innovative and creative as you like to customize the greeting page. You can introduce your core values in the visitor management software that represents your true brand image amongst the customers.
2. Responsiveness:
The manual handling of the greeting formalities often takes a lot of time. This can be saved by using an effective visitor tracking system. Using the system, the organizations can well-plan the arrival, meeting, and exit of their customers and visitors.
This will deliver much-needed convenience to the customers and reduce the chaos within the organization.
3. Simple use:
Along with being time-effective, the visitor management system also ensures simple use of the various features. Thanks to its simple use, the advanced visitor management system can be accessed by anyone, even without any technical knowledge.
4. Transparency:
Last but not least, the visitor management software introduces transparency while accessing and providing the relevant information. Thanks to this transparency, the organization as well as the customers can have complete information of their visit; thus, minimizing any confusion or unwanted hassles.
Final thoughts:
Greeting your customers introduce the required warmth in the corporate work culture. Moreover, when the greeting is done using an advanced visitor management system, it only adds to the value and standard of the organization.
If you need any more information about using the visitor management system for customer greeting, If you have any more doubts, please email us.
Ask For A Free Live One-on-One Demo. Our experts will demonstrate all Key Features & Functionalities
Call us today at

+919840075250

or Email us at

sales@cogentmail.com
Request Demo