How can a material management system help boost your business?
CATEGORIES

01 FEB 2022

Best Practices
Material management is one of the effective ways of planning, organizing, storing, maintaining, and controlling the activities related to material flow within an organization. An effective material gate pass management system ensures that high-quality materials are available in alignment with the needs and requirements of the customers.
It can be simply understood that the material management system helps control the material flow in terms of price, quality, quantity, demand, and delivery schedule. With its impact on the workflow and profitability of the business, investing in a material gate pass system can boost the overall business.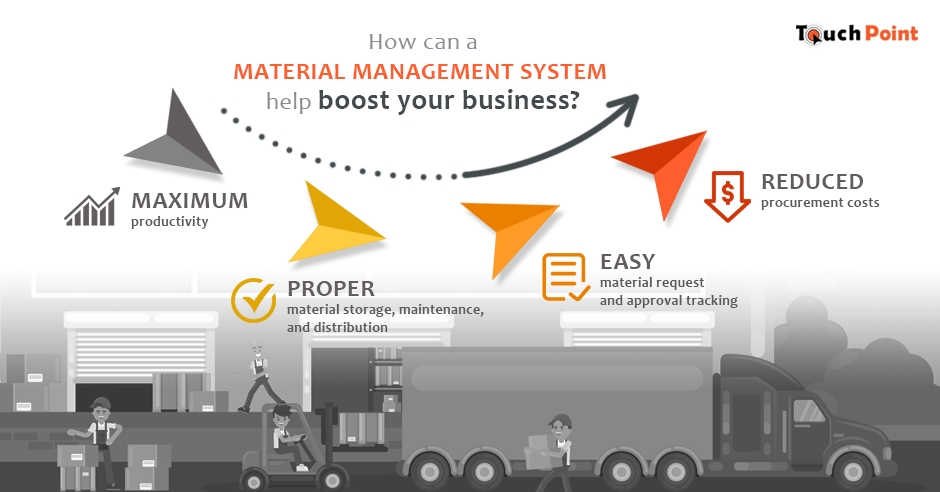 The material management system can bring some positive impacts on the business. Some of them are as follows –
1. Maximum productivity:
A material management system ensures that the right quantity and quality material is available at the right place and at the right time. This helps reduce any delays in fulfilling and maintaining the orders within the organization. As a result, this helps in maximizing the productivity of the organization.
2. Proper material storage, maintenance, and distribution:
One of the best ways to boost your business is to ensure that all the available material is stored, maintained, and distributed just at the right time. The material out gate pass helps get quick access to the needed material for production without any delays.
3. Easy material request and approval tracking:
Many reputed organizations now rely on a gate pass management system to track all the requests generated for material acquisition and approved requests. This helps the organization to keep all its processes aligned to witness an impactful boost in its functioning.
4. Reduced procurement costs:
Thanks to the detailed analysis of the needed and used material, organizations can plan to place bulk orders and staggered deliveries. This benefits the organization with a negotiation advantage to reduce the purchase, logistic, and inventory carrying costs.
Final Thoughts:
Every penny saved is a penny earned! With the use of an effective material gate pass management system, businesses can achieve reduced cost, better productivity, and material storage, which ultimately boost the business's profitability.
Ask For A Free Live One-on-One Demo. Our experts will demonstrate all Key Features & Functionalities
Call us today at

+919840075250

or Email us at

sales@cogentmail.com
Request Demo