Paper Vs visitor management system – which is better?
CATEGORIES

24 AUG 2021

Best Practices
The evolution was a must from the traditional visitor management approach to the digital visitor management system. COVID-19 triggered the need for an advanced management system to assure better security and instant access.
As we are still adjusting to our new normal routine, it is important to predict the better approach between paper vs visitor management solution. The issues concerning data storage and security proved as the major downfall of the traditional visitor management system.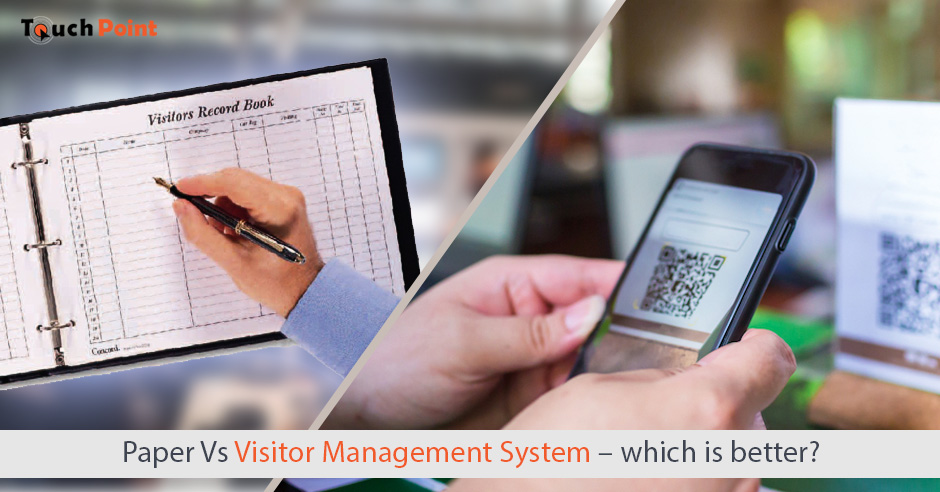 Thanks to the advanced technology and the need for social distance, the use of technically advanced visitor management software made a great choice. Digital advancement not just cut down the chances of error but is also safe and quick compared to traditional ways.
The advantages of digital visitor management over traditional management systems:
Upgrading the latest visitor tracking system within your organization brings many benefits, such as –
1. Faster sign-in:
The digital visitor management enables every visitor with a unique id, resulting in a much faster sign-in than the traditional method. The unique digital ID cards contain all the necessary information about the visitor, which saves time and effort and reduces the chances of errors.
2. Pre-booking the visitors:
Unlike traditional visitor management, the visitor management software enables pre-booking the visitors. This means the respective employee or visitor can make an advance appointment for their meeting, resulting in less chaos within the organization. This is a great step to ensure COVID-19 safety measures.
3. Cost-effective:
The digital visitor management solution is cost-effective as compared to traditional visitor management. The digital visitor management solution cuts down the unwanted costs of data storage and maintenance with digital storage means.
Moreover, it also allows the managing staff to have enough time for other essential organizational operations.
4. Better security:
Last but not least, the visitor management software ensures better security while maintaining and recording the sensitive personal data of the visitors. It allows only specific authorized people to access the required information at the right time, preventing any mishandling of the information.
Conclusion:
The use of a digital visitor management system is no more a luxury but a necessity. Without any doubt, the digital visitor management system holds priority over the traditional management system.
Ask For A Free Live One-on-One Demo. Our experts will demonstrate all Key Features & Functionalities
Call us today at

+919840075250

or Email us at

sales@cogentmail.com
Request Demo