Paperless sign-in: Why is it the need of the hour?
CATEGORIES

07 SEP 2021

Best Practices
Are you still using paper sign-in management in 2021? Even after the COVID-19 outbreak? Unfortunately, if that's a yes, you are not just compromising with your health but are also risking other people's lives without an adequate visitor management solution.
Paperless or digital sign-in is an economical and essential need of the hour to sustain the present time. Tailoring the sign-in process with a reliable visitor management system enhances the experience for the visitors by eliminating extraneous elements.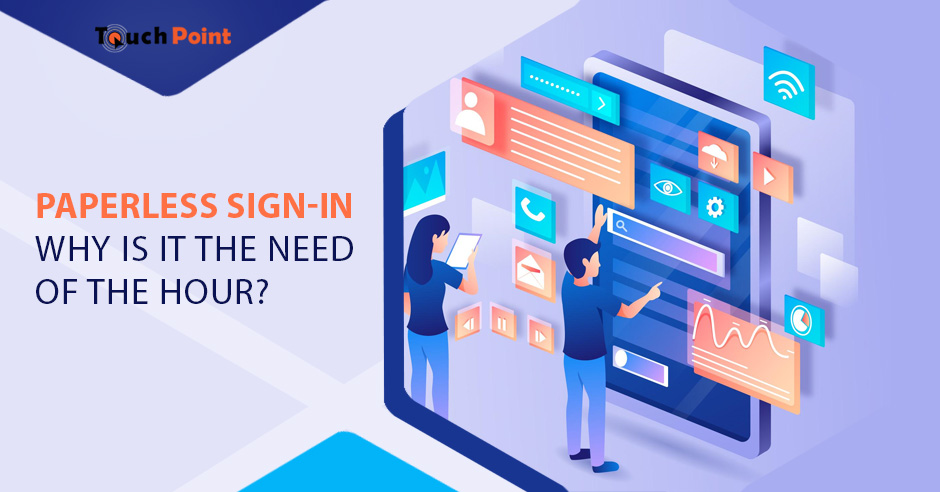 Why should you opt for paperless sign-in?
1. Creating a better first impression:
The first impression always counts. If your first impression for your visitors is an untidy and messy front desk management, you will create an overall unorganized impression. On the other hand, an automated visitor management software will swap the unwanted mess with an elegant and smoothly management modern display.
Isn't it the exact first impression you want?
2. Organized admin time:
Paper sign-in attracts many unwanted tasks to keep the front-desk admin busy all the time. Maintaining and managing the paper records demand a lot of time and effort, which can be saved using an automated visitor management approach.
Properly scheduled and managing sensitive essential information can save the maximum time of the admin for better utilization for other important tasks.
3. Consistent tracking and alerts:
One of the best advantages of using a digital visitor tracking system is maintaining a consistent tracking of all the visitors. Rather than manual involvement, the tracking system sends instant alerts and notifications about the arrival and departure of the guest or visitor. As a result, the entire meeting can be scheduled without creating any hassles or chaos.
4. Better security:
Aren't we all aware of the risks of losing visitors' sensitive personal information while using paper sign-in management? The digital visitor management software can be one effective solution to reduce the risk of losing the visitor's personal information. It allows only authorized access to the required information guaranteeing better security.
Conclusion:
Besides the mentioned attractions, the automated visitor management system is also eco-friendly. Its use ensures preserving the environment for a better and healthy future. Are you ready to embrace an automated visitor management solution?
Ask For A Free Live One-on-One Demo. Our experts will demonstrate all Key Features & Functionalities
Call us today at

+919840075250

or Email us at

sales@cogentmail.com
Request Demo