Top 5 questions to ask before investing in the visitor management system
CATEGORIES

18 OCT 2022

Best Practices
If your business witnesses a high number of visitors, it is your responsibility to give them the best experience using a suitable visitor management system. However, choosing any random visitor management software won't bring any good to your business reputation or value. Therefore, you should be focused to choose the best visitor management solution for your business.
Fortunately, it is not very hard to choose the right visitor pass management system for your business. If you are feeling confused, explore the top 5 questions to ask before investing in visitor management.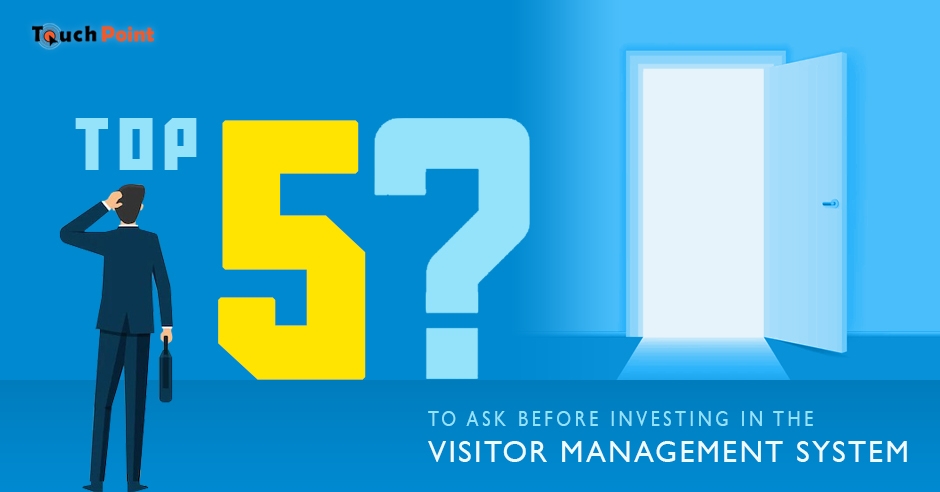 Top questions to ask to choose the best visitor management system –
1. Does your business actually need a visitor management system?
Surely, visitor management system India is the need of the hour for many businesses, but does your business really need it? A visitor management system only makes sense if your business witnesses too many visitors on regular basis. If you have limited visitors, then a visitor management system will just be added software.
2. What is the scope of flexibility in a visitor management system?
As you choose visitor pass software, always ensure that it is flexible enough to accommodate your future requirements. The software should be efficient enough to strategically handle your growth without compromising your present needs.
3. Is the visitor management system compatible with your business?
Every business follows a plan and thus, relies on several systems, processes, and functionalities. Make sure that the visitor management system software is highly compatible with the existing working strategies of your business.
4. What are the offered features by the visitor management system?
Before making any final decisions, confirm if the chosen visitor gate pass system offers the exact functionalities that you expect for your business. There isn't any point in investing in visitor gate pass software if it doesn't fulfill the expected need.
5. Is the visitor management system available within your budget?
Last but not least, ensure that the selected visitor tracking system is within the available budget of your business. Pre-plan a budget to limit overspending while choosing and implementing a visitor pass format system.
Final Words:
Thanks to the popularity of the visitor management system, you will have multiple options available to choose from. However, you should analyze every aspect of the visitor gate pass format to make the rightly suitable choice.
Ask For A Free Live One-on-One Demo. Our experts will demonstrate all Key Features & Functionalities
Call us today at

+919840075250

or Email us at

sales@cogentmail.com
Request Demo