Visitor management benefits crucial during pandemic times
CATEGORIES

21 DEC 2021

Best Practices
As we are still under the impact of COVID-19, many organizations are adopting advanced software and tools to adjust to the new normal. One effective software essential during the pandemic is none other than the visitor management system.
The visitor management software is not just great for seamless management of the visitors but for boosting organizational performance. Let us look at some of the best benefits of a visitor management solution for smooth business functioning.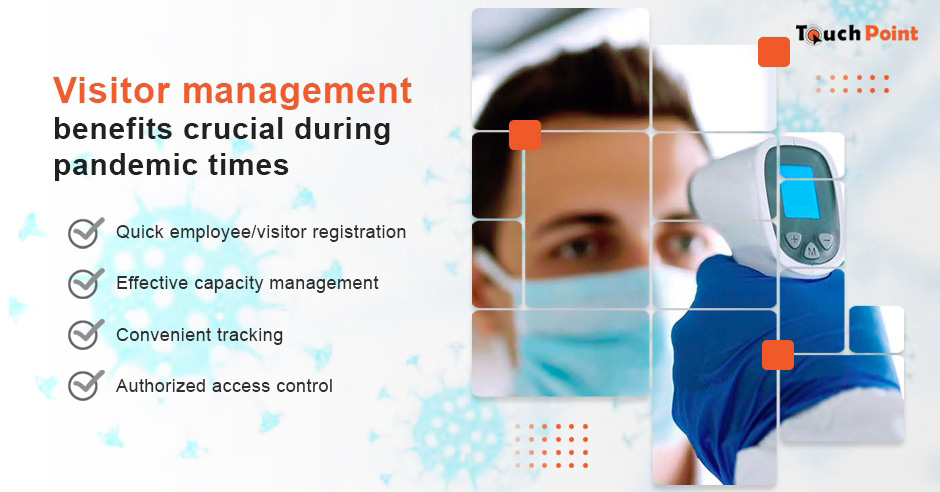 Benefits of visitor management system -
1. Quick employee/visitor registration:
Besides extending the benefit of check-in and check-out for the visitors, the visitor management system also ensures quick registration of the visitors and employees. This reduces the risks of transmission of the corona symptoms with proper execution of various organizational activities.
2. Effective capacity management:
Another essential benefit of the visitor management system is effective capacity management. Social distancing is one of the prime needs during the COVID-19 times. The proper use of visitor management software helps avoid the large gathering of people to reduce any kind of risks to the visitors and employees.
3. Convenient tracking:
The use of manual ways to track visitors or employees' activities can be quite challenging. Thus, many organizations rely on the visitor tracking system to keep track of their visitors and employees without hassles.
The software also notifies about the visitor's arrival and exit to carefully plan the appointment of the next visitor.
4. Authorized access control:
One of the best benefits of a visitor management system is to get authorized access control for its various activities. As some authorized people can only manage the software, it reduces the chances of errors or mistakes.
Moreover, it also reduces any possible threats to the confidentiality of sensitive information. As a result, it ensures accelerating the business performance for better ROI.
Final Thoughts:
Visitor management solution is a must-have need for every organization. It helps create a healthy and germ-free working environment in the office with proper execution of organizational activities. Don't keep waiting any longer to avail these amazing benefits of visitor management system.
Ask For A Free Live One-on-One Demo. Our experts will demonstrate all Key Features & Functionalities
Call us today at

+919840075250

or Email us at

sales@cogentmail.com
Request Demo